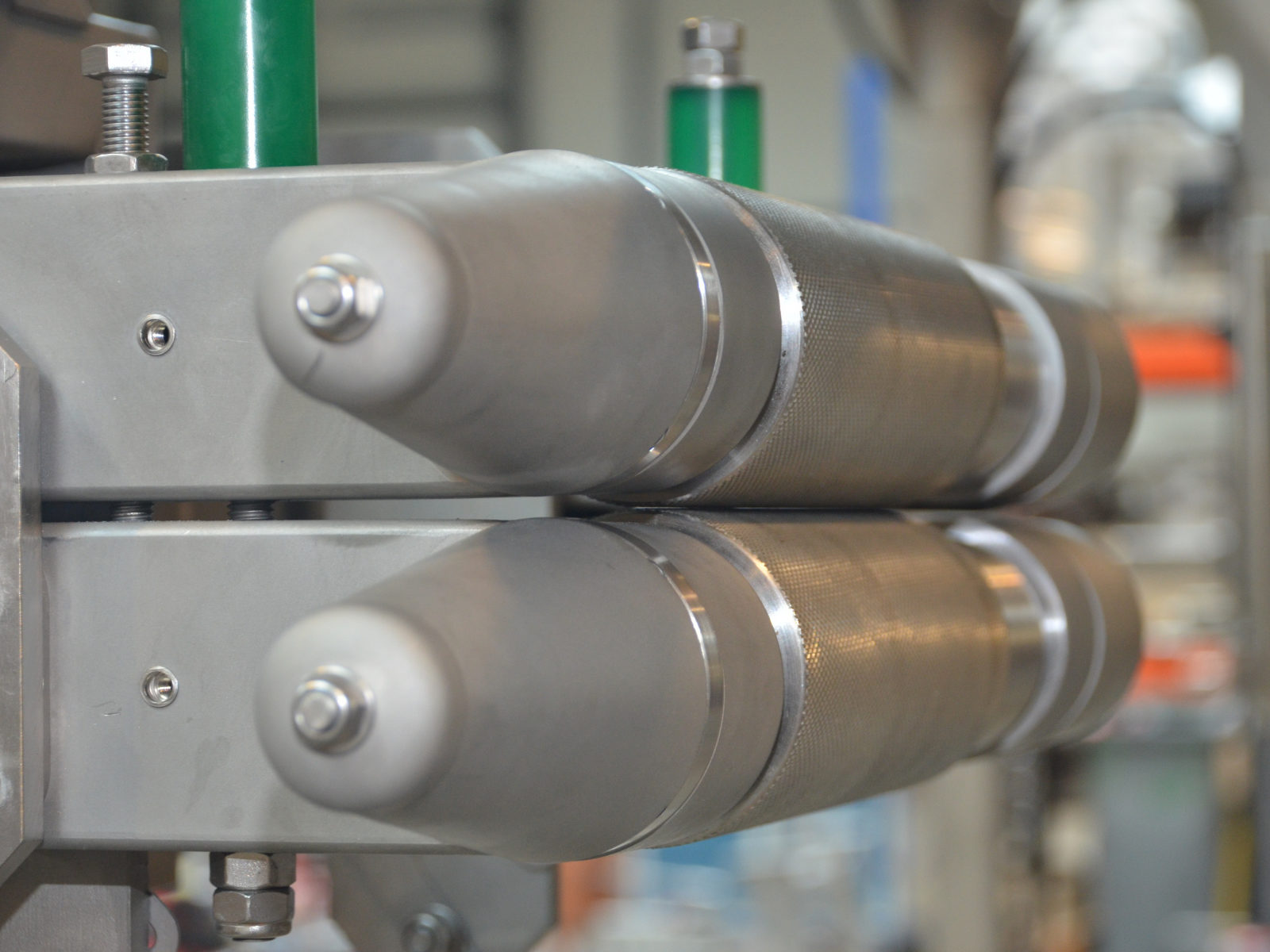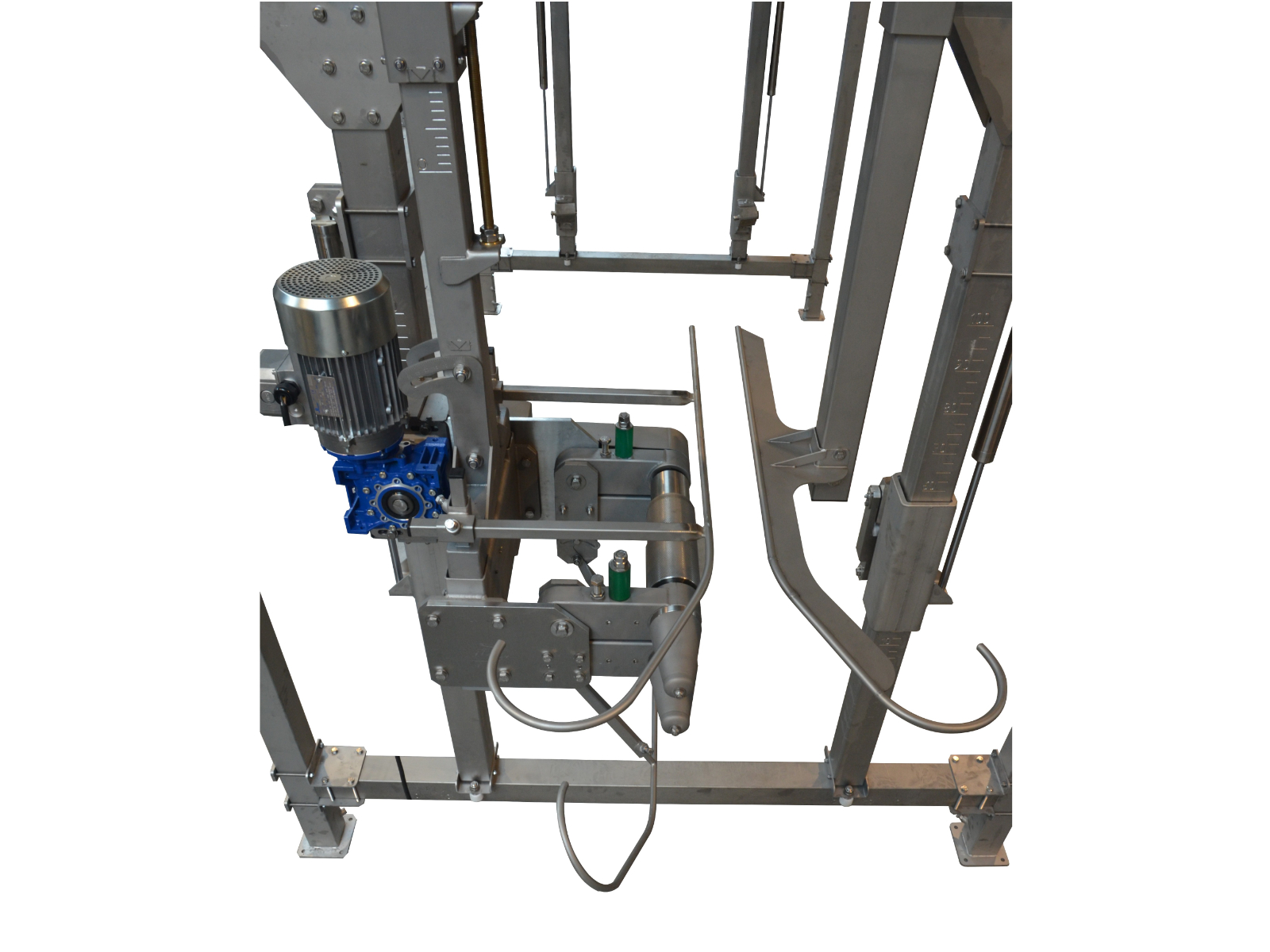 PGP
Rump plucking area
Optimized plucking result
Description
The PGP plucker is a plucking machine specifically studied and made to work on the tail area.
Our plucking solution PGP can be used mainly in the duck processing.
The duck having different feathers on this area is therefore recommended as equipment designed specifically for these types of feathers.
Depending on your needs, various plucking lengths are available on the PGP plucker: 0,30m and 0,60m
Neck & Head plucker
Neck & Head area
High quality finish
Description
The PTC plucker is a counter rotating plucking machine specifically designed to work on the plucking of the delicate area of the head and neck of poultry.
Made in stainless steel, the setting of PTC is set by a system of hydraulic cylinders operated by the hand pump.
The PTC plucker is available in various plucking lengths: 0,80m, 1m and 1,50m
A configuration for Foie gras ducks is also available
For an optimum plucking quality, the PTC plucker can be combined with a PGP plucking machine on the duck processing.
PGT
Optimized maintenance
Multi-product efficiency
Counter rotating technology
Description
The counter rotating plucker PGT is a plucking machine known worldwide for its reliability, robustness and efficiency.
Equipped with 400mm diameter drums and vertical banks for the plucking of the most difficult areas, the PGT is a plucking machine particularly suitable for large poultry: large chickens, roosters, turkeys, ducks and geese.
Available in 2 plucking lengths, the PGT plucker allows to remove 90% of the feathers in a minimum of time from the exit of the scalding tank.
Designed entirely in stainless steel, the PGT range has a hydraulic cylinder system for precision and ease of use between the different batches.
Technical information:
Depending on your needs and requirements, some plucking banks can be added as an option
PGT 1815: Plucking lengths 1,82m
PGT 2850: Plucking lengths 2,85m
PF
Multi-product efficiency
Vertical disc technology
Personalized configurations
Description
The range of vertical disc plucking machines has been studied and produced to pluck all types of poultry, from standard chicken to turkeys of 25 kg.
This plucking technological solution is designed to intervene in the second plan of the plucking process and bring the finishing stage after the counter rotating plucking machine. Depending on your needs, the PF plucking machine can also be used alone on the poultry processing line.
The PF range consists of a multitude of configurations to suit your needs. Customizing your configurations will enable you to achieve an unequalled quality of plucking that is fully in line with the requirements and constraints of your slaughterhouse.
Configure your ideal plucking machine with:
Type of frame:
PF-A: Allows ramp by ramp adjustment, fully hydraulic, which offers great flexibility of settings.
PF-B: Allows for more in-depth setting. The ramp tilt is manual. The ramps remain independent in height and are adjustable by hydraulic cylinders.
PF-C: Simple frame with height adjustments of the ramps between them by screws
Type of banks:
Various types of finger discs are available, driven by cogs or drive belt depending on length.
Star plucking machine for foie gras ducks
Semi-automatic
High quality finish
Description
The star plucking machine is a finishing plucker specifically designed for the plucking of the Foie gras duck.
The PECG is a semi-automatic plucking machine that will ensure high-quality finish of Foie gras ducks.
The PECG is mainly used in low to medium rate units.
Rollers plucking machine for Foie gras ducks
Semi-automatic
Optimum finishing
Description
The PRCG plucker is a finishing solution of the plucking stage specifically designed for Foie gras ducks.
This semi-automatic plucking machine allows to remove the remaining large feathers and to obtain a perfect plucking result.
This semi-automatic plucking solution is recommended for low to medium rate slaughterhouses.
Do you want to know more about it?
Contact our sales team
Our sales department is at our disposal to answer your questions. We have an agents network around the world, so do not hesitate to contact them to speak of your project.